Top Emerging Trends in Composites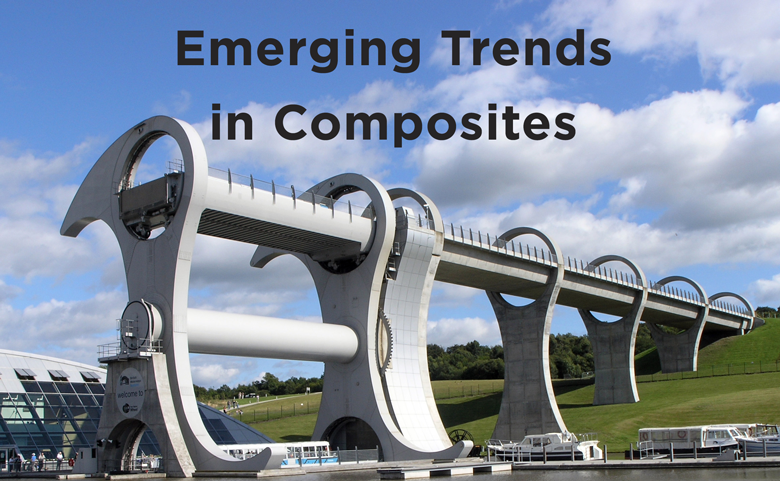 Composites adoption by the industry is growing by the years, as they look for and need new ways of replacing metals with lighter weight materials. Plus, the trend say that these materials will play a major role in key markets for plastics going forward.
And from the different composites' options, thermoplastic composites are the ones poised to fulfill a bigger demand of requirements. For example, large-scale industry will continue to demand automation in the future, and thermoplastic composites are innately suited to automated production. Also, thermoplastic composites are used for applications that require high levels of rigidity (stiffness) and impact strength, as well as temperature, humidity and chemical resistance.
Other fact to bear in mind is that there is an ever-growing appearance of prototypes of hybrid molding, both in thermosets and thermoplastics, pointing toward upcoming widespread deployment in automotive components, given typical product development cycles. More companies now offer carbon fiber recovered from scrap textiles, prepreg and cured parts.
Having these particularities in mind, and regarding the data Linknovate's platform shows for the composites topic, we have identified that there are three major trends in composites that will be crucial for the industry: engineered polymers, composites that be used to build "flying cars", and those aimed to be used in the wind power industry.
1. Composites for wind power generation
The world is moving into a new era for wind energy, which is already one of the largest markets for composites. A key driver is longer blades, not only onshore, but especially offshore, where they are approaching 100m lengths. This bodes well for the use of carbon fiber in spar caps, especially those made with low-cost production methods such as pultrusion.
a. Composites for Wind Power generation evolution
According to the aggregated data Linknovate has collected since 2010 for composites materials aimed at improving or optimizing wind power generation, we can see it is a field that has been growing steadily until last year, when it leap-frogged.

Evolution of composites' innovation for wind-power generation. Source: Linknovate.com
b. Top 10 Organizations in Composites for wind power generation
Out of the total of organizations working on this topic, 58% belong to the private sector (22% are Corporations and 36% are SMEs), and 42% to Academia. However, the leading 10 organizations are all companies, 7 are Corporations and 3 are SMEs. Out of these companies, 5 are from the USA (GE, TPI Composites, Gamesa, Hexcel, and Owens Corning), 2 from Denmark (Vestas, LM Wind Power) and 1 from Germany (Wobben Properties)
General Electric is the organization patenting the most in this topic, with a total of 107 patent applications since 2010. Mostly, they are working on improving rotor blades with shear webs, welded joints, and spar caps made out of composites.
Vestas has an interesting invention too. It is a method for manufacturing a wind turbine blade that comprises a structural mat.
And Hexcel, via its UK subsidiary, is participating in DACOMAT Project, a consortium of more than 10 organizations that aims to develop more damage tolerant and damage predictable low-cost composites for being used in large load carrying constructions like bridges, buildings, wind-turbine blades and off-shore structures.
Top 10 organizations worldwide innovating in composites for wind-power generation. Source: Linknovate.com
c. Top Trends in Composites for Wind Power generation
The main trend within composites innovation for wind power generation is aimed at blades (components or structure) for keeping their strength while making them lighter.
And to that focus, companies like Games, Wobben Properties and Blade Dynamics have some interesting projects.
Gamesa has been awarded EIROS Project, which will develop self-renewing, erosion resistant and anti-icing materials for composite aerofoils and composite structures that can be adapted by different industrial applications: wind turbine blades and aerospace wing leading edges, cryogenic tanks and automotive facia.
Wobben Properties has 19 related patent applications that focus on improving rotor blades. While Blade Dynamics focus on elongate composite elements instead.

Trends in composites for wind-power generation. Source: Linknovate.com
2. Composites for Air Mobility
During 2019 we will see the first demonstration of personal air mobility, and companies are already entering the market and building the needed ecosystem to convince the regulatory agencies, the public and ride-haling companies that they have the right vehicles to meet the future demand, as well as meet safety requirements.
Already, Airbus, Rolls Royce, Aston Martin, Joby Aviation, Volocopter and others have rolled out concepts or early prototypes, and these vehicles will have more in common with helicopters than with airplanes.
a. Market readiness of Air Mobility (made out of composites)
Even though it may seem now a science fiction story, flying cars are closer than we may think. Actually, Linknovate's Commercial Readiness radar shows that this technology is almost here.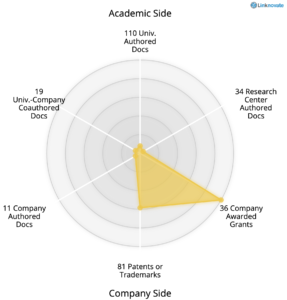 Commercial readiness of composites for air mobility. Source: Linknovate.com
b. Top organizations developing composites for air mobility
Out of the leading organizations developing composites for the next generation of flying vehicles, 6 are from the United States, 3 from the United Kingdom, and one from France. Likewise, 5 are SMEs, 3 are corporations, and two are research centers.
Boeing is the organization with more patents on the matter, 16. They not only are developing composites for the next generation of flying vehicles, but also are ideating navigation systems
Aurora, Boeing's research subsidiary, has been awarded five different grants from the NSF. They focus on composites structures and sensors for this type of vehicles.
As for British Antich and Sons, it was quite surprising to see them on this list, as they are a clothing company. However, they are also developing advanced 3D weaving capability of composite preforms for use in polymer and metal matrix composite materials for the automotive and aerospace industries.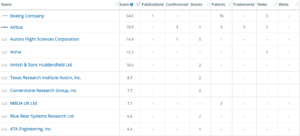 Top 10 Worldwide organizations innovating in composites for air mobility. Source: Linknovate.com
c. Public Funding into composites for air mobility
Regarding to public funding awarded to this topic, it is interesting to see that, since 2010, there has been almost 50 granted projects for an amount of $30M.
From those, the most well-funded project was FARSCOPE, awarded by UK Research and Innovation. FARSCOPE, the Future Autonomous and Robotic Systems Centre for PhD Education, aims to meet the need for a new generation of innovators who will drive the robotics and autonomous systems sector in the coming decade and beyond, and will train over 50 students in the matter.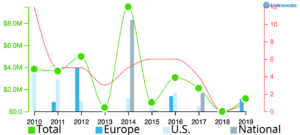 3. Engineering Polymers
The expansion of engineering resins (with long and short carbon fiber reinforced polyamides and high-performance polyphthalamides) are key drivers to the spread of thermoplastic composites. Unlike less expensive commodity resins, engineering polymers offer exceptional mechanical properties at elevated temperatures, increased stiffness and toughness, and low creep. This makes them ideal for more metal-to-plastic structural components opportunities.
Also, advanced thermoplastic polymer composites enable many digital technologies, including advanced driver-assistance systems designed to automate and enhance vehicle systems for safer driving.
a. Evolution in engineering polymers for creating composites
As we can see in the graph below, the use of engineered plastics in composites is a trend that is growing in importance, although, regarding the number of records, it is still a niche topic with great opportunities of evolution.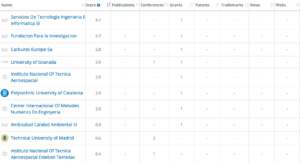 b. Top organizations worldwide engineering polymers for composites
Regarding the aggregated data Linknovate has collected for this topic, 20% of the involved organizations are Corporations while the majority are SMEs (35%) and Universities (32%). However, it is interesting to see that, out of the top 10 organizations, six are corporations and the rest four are SMEs.
Solvay has two related patent applications involving thermoplastic composites with semi-crystalline polyphthalamide, which provide for crack-free thermoplastic cocmposites.
For its side, Cytec is working on woven textile materials that can be used in the manufacturing of fiber-reinforced composites.
And in Japan, Mitsubishi Rayon has 5 patents for engineered polymers containing powder of polyorganosiloxane.

c. Trends in engineering polymers for building composites
When it comes to analyze the trends within engineering polymers for composites purposes, we can see in the graph below that the main trends revolve around polyethylene composites, glass fibers, and the aim to improve the material's mechanical properties.
For glass fibers, there is an interesting example of Boeing Company. They have different patents on the matter, but one that seems more interesting is on a conductive fiber reinforced polymer composition that contains glass fibers.