Biowaste Valorization Leaders you Must Know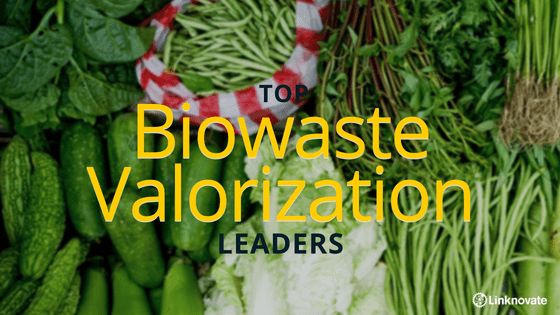 European universities R&D efforts plus the increasingly harsh government measures in sustainability and resource use make the present the perfect time for companies to enter biowaste valorization industry
Biowastes arise from biomass processing, particularly farming and food production. They are components not fit for human consumption, like peels, leaves and stems.
According to the Agrimax Project, the European Union alone produces approximately 700 million tons of bio-waste annually.
But this waste can be processed to obtain three main substances: cellulosic materials, proteins, and bioactive compounds such as carotenoids, phenolic compounds, or essential oils.
The idea of giving a "second life" to this waste, whether it is making new products or simply generating energy, can be one of the most relevant aspects in the durability of our resources. This, added to the increasingly restrictive norms of governments is leading to an increase in innovation and research in biowaste valorization.
Top organizations innovating in Biowaste Valorization
Universities are, by far, the most active organizations in biowaste valorization. This indicates the field has yet to reach the market.
Ghent University (Brussels) has received several European projects. At the moment, they are participating in three: PERCAL (€4M), AgroCycle (€7M), and AgriMax (€15M). PERCAL will exploit Municipal Solid Waste (MSW) as feedstock to develop intermediate chemical products at high yield and low impurity level. AgroCycle will convert low value agricultural waste into highly valuable products. And AgriMax aims to create agri and food waste valorization co-ops based on flexible multi-feedstocks biorefinery processing technologies for new high added value applications.
The Agricultural University of Athens (Greece), which also participates in PERCAL project, has different studies on circular and sustainable bioeconomy through waste valorization. For example, in agro-industrial waste utilization using oleaginous yeast for the production of biodiesel.
For its part, the University of Aveiro (Portugal) is participating in the PAPERCHAIN project (€9M). They aim to deploy circular economy models in the valorization of the waste streams generated by the Pulp and Paper Industry. They also have studies in the valorization of alternative mineral sources from pulp and paper mills.
The only Asian entity in the top 10, the Shanghai Ocean University (China) focuses on the integration of waste valorization for sustainable production of chemicals and materials via algae cultivation.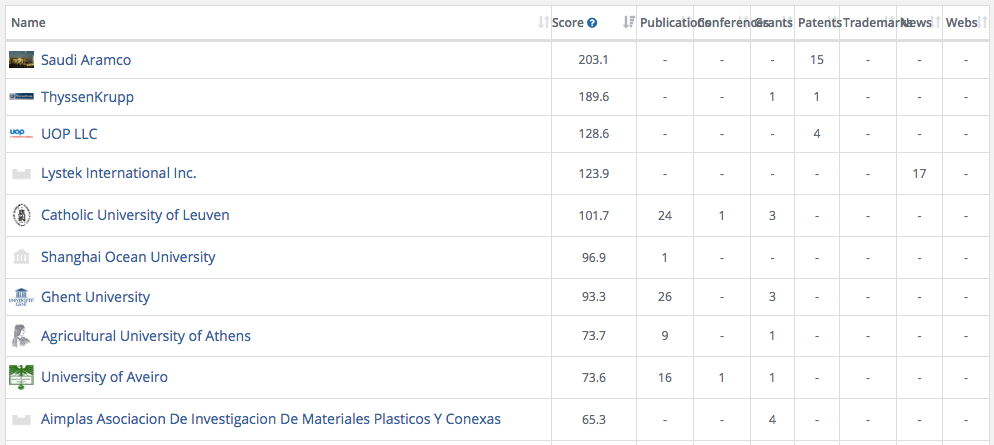 Top 5 Biowaste Valorization Leaders
Among the top 5 most active organizations innovating in biowaste valorization we can mainly find corporations and one university.
Lystek International (USA) has recently been awarded $1.5M by the California Energy Commission to demonstrate that source separated food waste, and potentially other organic waste streams, can be pre-treated and processed to produce a high-quality biogas, which can ultimately be used as a fuel source for electrical energy generation.
UOP (USA) has relevant patents on processes to maximize hydrogen recovery, and also on options to reduce fouling in MTO downstream recovery.
ThyssenKrupp (Germany) has a patent application on a modified propane dehydrogenation system for producing chemical products and are participating in NEMO Project (€15M) for recycling low-grade sulphidic mining waste for critical-metal, mineral and construction raw-material production in a circular economy.
The Catholic University of Leuven (Belgium) also participates in the NEMO project. They have also been awarded with REDMUD (€4M) and SOCRATES (€4M) projects to create a European Training Network for the sustainable, zero-waste valorization of metal containing industrial process residues. They are also working on the recovery of substances such as antimony from lamp phosphor waste.
Finally, Saudi Aramco (Saudi Arabia) focuses on the reuse of energy and have filled several patent applications on waste energy recovery and re-use in industrial facilities.

Countries Leading the Advancements in Biowaste Valorization
Although the United States is the leading country in Biowaste Valorization (mainly thanks to the high number of SMEs), we observe that most of the innovation is carried out in Europe (Spain, Germany, Belgium, and the UK).
The British company Exergy is part of PERCAL, AgroCycle and AgriMax projects, and also of the WASTE2FUELS project (€6M), focused on the sustainable production of next generation biofuels from waste streams.
From France, RESCOLL is a technology services company that deals with new approaches for the valuation of urban bulky waste into high added value recycled products for the URBANREC project (€10M). Also from France, Refarmers works in support the development of healthy and productive local agriculture. They are participating in the DECISIVE project (€9M), built to create a decentralized management scheme for innovative valorization of urban biowaste
Also involved in the DECISIVE project, the italian company Innovative Technological Systems is focused in technological installations powered from renewable sources.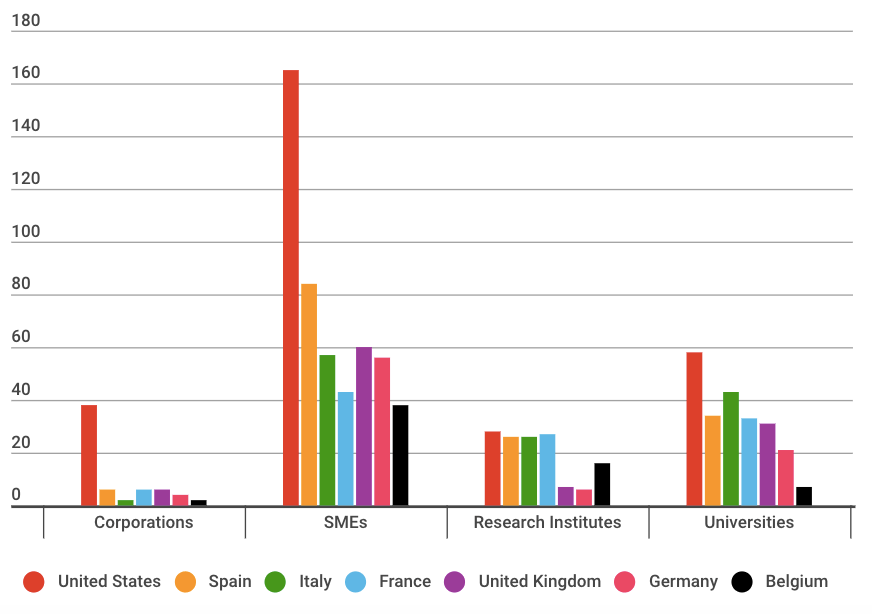 Top Biowaste Valorization Trends
The chemical industry and organic waste are the most important subtopics in biowaste valorization in the recent years.
Companies like Avantium Chemicals (The Netherlands), which provides catalysis services and systems to oil, gas, chemical, and renewable industries, have also been awarded European projects in the field. KARMA2020 (€7M), aimed at industrial feather waste valorization for sustainable keratin-based materials; and BIOFOREVER (€16M), built to create BIO-based products from forestry via economically viable European routes.
Another chemical company is Tomsa Destil (Spain), which manufactures and distributes industrial alcohol, liquors, brandy, bioethanol, and biodiesel products. They are also participants in the projects WASTE2FUELS and AgroCycle.
Domsjo Fabriker (Sweden) also develops products related to green chemicals. They produce cellulose, bioethanol, lignin products; and carbon dioxide, biogas, bioresin, and soil conditioner improvement.
Also Swedish, Boliden Mineral is a metallurgical company that smelts, mills, recycles, and explores for minerals including lead, gold, and silver. They are also part of the winning consortium of PAPERCHAIN.

Biowaste Valorization over Time
The increasingly harsh government restrictions on sustainability and resource use are driving organizations around the world to accelerate their innovation processes. Biowaste Valorization is one of the fields that confirms it, as we can see in the growth it has been experiencing in recent years, and the trend seems to continue growing for the years to come.