Bioplastics leaders you must know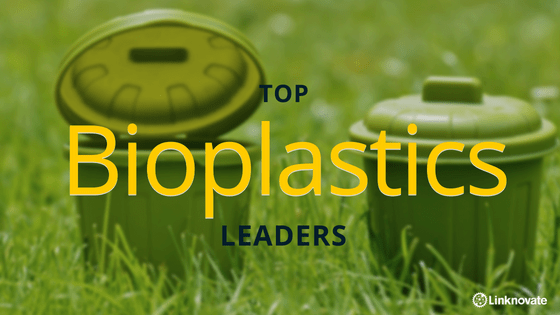 BASF, Solegear Bioplastics, and NatureWorks are the companies leading the bioplastics advancements.
The United States is the country with more active organizations, followed close by Europe.
One of the most promising measures aimed at cutting down our petroleum dependence is the use of bioplastics. They are in full growth thanks to the anti-pollution laws and restrictions that are being implemented all over the world.
Bioplastics can be made from agricultural by-products and also from used plastic bottles and other containers. They have numerous applications such as disposable items, (packaging, crockery, or cutlery), development of fibers, and can even be used in medicine and agriculture.
Three are the drivers of growth for bioplastics: the importance of brand image to consumer goods companies, the value of joint composting and the reduction of litter. And these will provide the spur for continued growth in bioplastics across the world.
Now that the benefits of biologically sourced plastics are well-understood, their market share is likely to rise sharply. And here we pinpoint those organizations that are getting ahead of their market and are determined to become the bioplastic leaders of the years to come.
Top Organizations innovating in Bioplastics
When looking at the top 10 bioplastics leaders, we can see enterprises and universities share equally the importance in bioplastics research. However, when looking at the aggregated data Linknovate has collected for this topic, Corporations and SMEs make 60% of all entities.
The University of Guelph (Canada) is a very active organization in Bioplastics. They have several studies and publications related to biodegradable bioplastics from soybean meal, and their thermal, mechanical, and impact resistance properties. In collaboration with Club Coffee, they have developed PurPod: a bioplastic made from coffee chaff.
Among the enterprises, Novamont (Italy) stands out. They have coordinated two projects financed by the European Commission. REBIOFOAM used chemical and biotechnological processes to convert low-consumption crops into biolubricants, cosmetics, and bioplastics. And FIRST2RUN aims to develop a manufacturing process that will allow the production of 3D biodegradable foamed containers from renewable raw materials.
Besides, Novamont has reached collaboration agreements with different cities (Milan, Copenhaguen, Geneva, Paris, Vienna, Cardiff, Manchester, the Sarrià district of Barcelona, and several London boroughs) to win the war against unrecyclable plastics by separating the collection of bio-waste.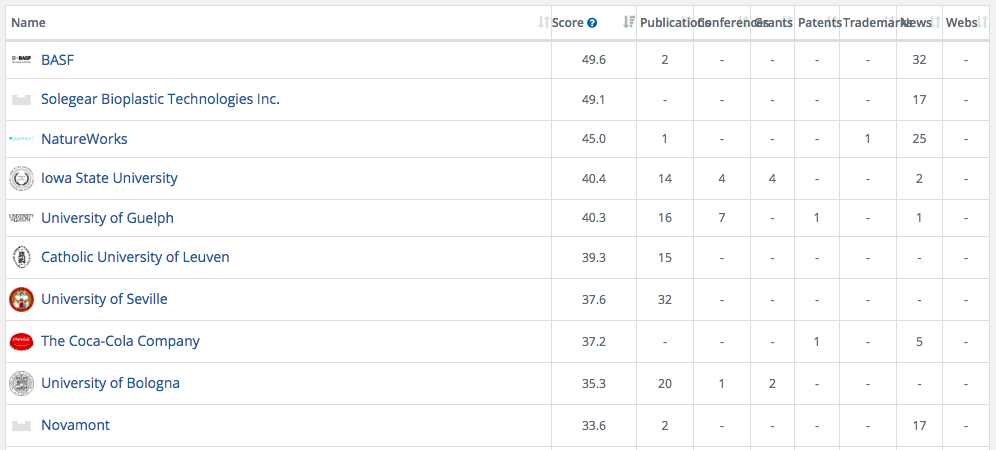 Top 5 Bioplastics Leaders
Solegear Bioplastic Technologies is the most active company innovating in bioplastics. They have expanding their business and have recently bought Lindar's bioplastic division. They want to utilize its "I'm green" Polyethylene to produce and distribute a series of household recycling containers under its "Good Natured Brand".
The giant of the beverages industry par excellence, The Coca-Cola Company, is continuously researching in terms of packaging and bottles. More specifically, they have a patent for repairing refillable or reusable polymer-based packaging.
For its part, BASF has reached an agreement with Avantium to build a facility to produce chemical building blocks from plant-based sugars. They are also collaborating with Riken research center on the degradation of nylon compounds.
Finally, NatureWorks has not launched a bioplastic product per se, but a software platform for the optimization in manufacturing of its biopolymers.

Countries Leading the Advancements in Bioplastics
Clearly, the main network of work on Bioplastics is in the United States. They quadruple Italy, second in the ranking, in the number of active organizations.
An interesting SMEs is Vericool (USA), who recently registered a patent application about a shipping container whose insulation material is compostable.
Another example is Grow Plastics (USA), awarded with an NSF grant for its work on high performance biodegradable sandwich core structures. Finally, Innovative Bottles (USA), also has remarkable activity with 5 patents about products created from bioplastic resins, like pharmacy containers, medical items, and disposable masks.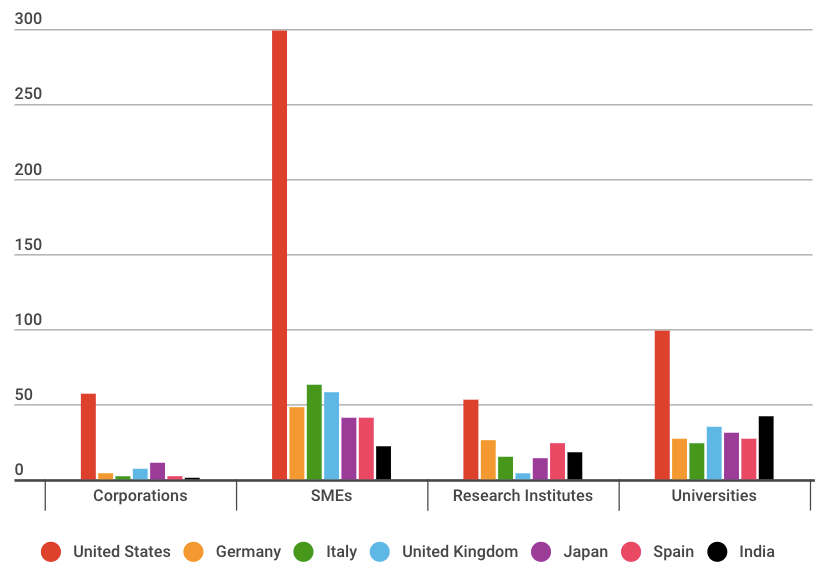 Top Bioplastics Trends
Trends within Bioplastics are related to plastic polymers, biodegradable polymers, and renewable materials and products.
Mango Materials (USA) is a biotech startup that is transforming methane into plastic by feeding bacteria with methane, which then produce a biodegradable polymer.
Floreon Transforming Packaging (UK) provides high performance bioplastics made from compostable materials. And Biome Technologies (UK) is a technological group that is working in various applications, including flexible films, molded products, extruded sheets, and food wraps.

Bioplastics over Time
The development of bioplastics and their derivatives becomes more important each year and it is becoming a great market niche for Bioplastics Leaders, especially small and medium businesses. Seeing the growth experienced in recent years in the appearance of new documents and references, the developments in this technology seem to have only begun.